Midget Giraffe
Midget Giraffe is a global brand for fashion-forward and bold African print lovers. In 2014, founders Corey Harris (American) and Linda Omeni (Nigerian) started creating custom pieces from their homes in East Orange, New Jersey. The name is inspired by the union of two opposite perspectives, to create something entirely unique and different – African print clothing cut in highly curated western styles. The shop continues to grow as an international style source offering both new and vintage clothing.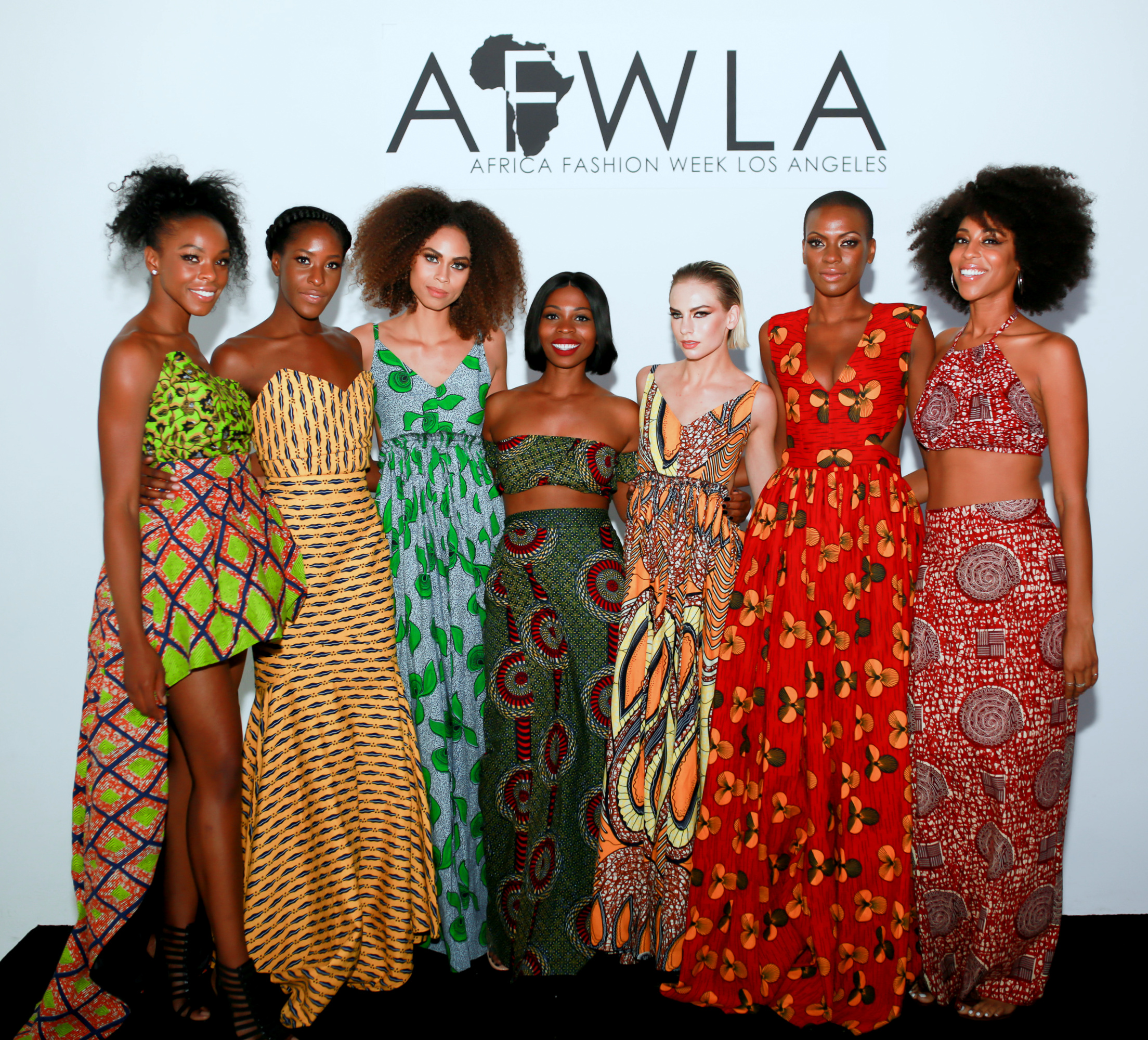 Della
Della is a socially responsible fashion line based in Los Angeles that works directly with a community in Ghana, West Africa. They believe in responsibility, not charity, and are committed to change the way people shop by bringing socially responsible consumerism to the forefront of the fashion retail market. Their mission is to empower the women they work with by providing jobs, education and skills training, so that they will one day take these opportunities and turn them into a lasting, better way of life. Every product is carefully handcrafted by a seamstress using authentic West African textiles.
Rahyma
Innovative Fashion Designs, blending African style with Western Fashion.
Ngozika O'keke
Ngozika O'keke is a socially responsible clothing brand based in Los Angeles, CA. Initially established in 2009 as "Exquisite Designs By Ngozika', the brand is now used to impact lives through the art of fashion. With a percentage of every item sold going to a nonprofit that helps survivors of assault and domestic abuse; they are truly changing lives. Helping others is always in style!
Koko Nanga
Maryanne Enanga Mokoko is a naturalized American, born of Cameroonian parents in Central, Africa launched Koko Nanga in an attempt to fortify her perspective on African Fashion. The brand, among other fabrics, mainly uses the print commonly known around the world as "Ankara". With these Afro-chic designs, the designer adds a modern flair and uniqueness to her brand.
Tina Summers Label
Tina (Lola) Summers label is an eco friendly clothing line that draws from our past to create new and innovative pieces that will inspire the everyday women. The collections consist of urban, trendy and classic looks for every style and personality. The romantic pieces are created from once loved items like, vintage dresses, ribbons and buttons.
OLU
Nigerian American Fashion creative Olushola Fagbamila began her mission of creating an atmosphere of inspiration through dress by the age of 15. Influenced by the late Lee Alexander McQueen she aims to continue the presence of innovation art-to-wear offers for a contemporary audience.
Josefa Da Silva
Cape Verdean-born fashion designer and stylist Josefa Da Silva is stamping her global brand on fashion forward women's wear and accessories that celebrate the essence of her rich heritage through the use of traditional, luxury fabrics, skins and prints.
Osengwa collective
Osengwa is a virtual marketplace showcasing exceptionally beautiful art, fashion & music of African origin. Their collective runway show featured pieces from their store including brands Orange Culture, IAMISIGO, Tzar, Sisiano, and Kamokini.